| | |
| --- | --- |
| | Search for a Reason |

| | |
| --- | --- |
| | Eight Living Realizations - Posted Reasons |

| | |
| --- | --- |
| | LISB Survey |

| | |
| --- | --- |
| | Bring Us To Your City or School |

| | |
| --- | --- |
| | Writer's Articles |


| | |
| --- | --- |
| | LIVING IS SO BIG... Dear YOU |
Dear YOU,

Life has begun to be unappreciated. Why? Because, of all the clutter, distractions and more than ever, negativity that exists today. My son fell into this negative cascade three years ago. It nearly cost him his life and this is just one person. With 7 billion plus on this planet the shift of Life Appreciation is not in our favor.

Over worked, stressed, depressed, addiction, technology, bills, basically today's reality. Many have forgotten to make the realization of what truly uplifts and satisfies oneself in today's times.

It's never too late! Life can once again be appreciated.

I write this so that you the reader can begin to make the realization. Once you have, simply pay it forward as I am to you.

Best Regards.

Jesus Agudo

(Father of two sons)

Ref: http://www.livingissobig.com/about

Handbook: The Eight Living Realizations

Reviewed by Admin

manage

on Monday, May 20 @ 14:16:10 CDT (18 reads)


| | |
| --- | --- |
| | You are never too old or too young to appreciate life...BY Jesus Agudo |
I had the opportunity of meeting an older gentleman of the age of 76 while celebrating another's birthday at a ripe age of 35. My Angelic wife, Iliana, first introduced herself to him and then I proceeded to do the same. He was intrigued about our cause while at the party. He wanted to know more about Living Is So Big. So, I told him the core basis of what and why we do what we do.

He then looked at me and said in a very calm and serious voice... "Am I too old to appreciate life?" Then he followed through with...

Note: Love and Light to you all!

Reviewed by Admin

manage

on Monday, March 11 @ 21:54:35 CDT (223 reads)


| | |
| --- | --- |
| | How often do you think about what you Appreciate? By Jesus Agudo |
How often do you think about what you Appreciate in general? It can be anything in this world or even out of it. I believe that it is not too often for the 6+ billion people on the planet. Fact of the matter is that we have too much clutter and distraction happening to us every single moment of our existence. This clutter and distraction is always readily available at the blink of an eye. It is easily accessible, only requires our attention and is always there just waiting for us to consume into our minds.
Now, with that being said... how often do you think about, more specifically, Life Appreciation? Makes you think… right? Good! Now is the time to think and consume the appreciative things in your life. This is why Living Is So Big exists today. It is here to help remind anyone that needs a little help in remembering. We all know it, we all experienced goodness, greatness, joy and happiness. It's just that this darn clutter and distraction is always around to make you forget.
Your next step is solely up to you of course. Remember what uplifts and satisfy you. Begin to search your memory banks and find what triggers certain emotions of joy and happiness. Don't be fooled, the joy and happiness comes in all shapes and sizes. The joy of drinking a glass of water is a perfect example. How often do you give a big "Ahhhh" after consuming the water? Guess what? You just satisfied yourself. A small moment of joy was experience. Take it for what it's worth. It was joyful!....
Note: Love and Light to you all!

Reviewed by Admin

manage

on Tuesday, February 19 @ 12:34:50 CST (242 reads)


| | |
| --- | --- |
| | On April 14, 2010 @ 11:41pm... By Jesus Agudo |
On April 14, 2010 @ 11:41pm - Jesus Agudo wrote:

"Living Is So Big... because you are my child and I love you no matter what happens".

Four days earlier from the above date my son had attempted to end his life. I created the website LivingIsSoBig.com and asked all of you that would listen to share one reason for living. You answered and you answered strong with your priceless thought. For this, I am forever grateful.

Note: http://www.livingissobig.com/reason

Reviewed by Admin

manage

on Friday, November 16 @ 19:05:10 CST (298 reads)


| | |
| --- | --- |
| | My on going thoughts... By Jesus Agudo |
My thoughts... LISB always!! =)

by Jesus Agudo

Note:

"Making the realization of all uplifting and satisfying moments is what gives you the Power of Life Appreciation."

-Jesus Agudo

Reviewed by Admin

manage

on Tuesday, October 09 @ 20:51:36 CDT (338 reads)


| | |
| --- | --- |
| | Concept of living one's life to its best potential. By Jesus Agudo |
How many of us truly understand the concept of living one's life to its best potential? Are we merely pacifying ourselves to accept what we have at the moment? Can we do better? Well, that will always be the question for the rest of our lives. Yes, we can always do better if we choose to do so. So, if you are in a dark place or not even close to where you thought you would be in life, then now as in this very second is the time to change that.
First and foremost begin to make the realization of what makes you happy in life. Start off by realizing that you are worthy and have a purpose. Continue that path and begin to focus on those family members and friends that share love and joy. Those that you love and want to be around. Those that make you feel terrific when they ask on how you are feeling. Find the feeling that makes your body, mind and soul energized. Partake in the enjoyment of activities, really get involved and have fun. Lend a hand to those in need. Offer them your kindness and you will receive a great feeling in return. Also, feel free to look into your spiritual beliefs if need be. Once you have made so many realizations of goodness, your thought patterns will begin to manifest in a more positive way.
This new thrust of positive energy will rejuvenate the mind, body and soul. The new discoveries of goodness that surrounds you everyday will be pouring in to your mind. It still remains within your power to make the wise choices. Do not allow the clutter and distraction to stop you from achieving your goal of being your best self.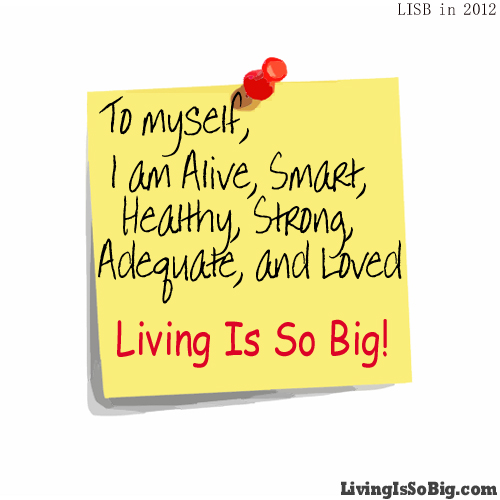 Note: Love and Light to you all!

Reviewed by Admin

manage

on Saturday, October 06 @ 09:23:31 CDT (409 reads)


| | |
| --- | --- |
| | LIVING IS SO BIG... Sent to the Ricki Lake show |
The world wants to hear more about Life Appreciation. I have proven, that despite the Color, Race, Gender, Age, Religion or Country you are from, we all have one thing in common. That is to live the life we were given to it's best potential.

Let me step back 2.5 yrs ago and tell you why I can prove this. My son attempted to end his life 2.5 yrs ago when he no longer had reasons to live for. It did break me down when the Suicide text came in. IT HURT LIKE HELL!!!

Note:

Much Love & Light to you the reader and the entire Ricki Lake staff. -Jesus Agudo

Reviewed by Admin

manage

on Saturday, September 22 @ 10:14:06 CDT (436 reads)


| | |
| --- | --- |
| | Why Living Is So Big exists today. |
I was going to save Christopher's life. I needed to do whatever it took to make him realize that life was worth the living. That was my only thought, my single-minded focus. I was determined to take whatever measures were necessary to make this happen. My son was not going to leave this earth until he was old and grey, and most certainly not before me or his mom. Not if I could help it.

The day was April 10th, 2010. We thought it would be just another day in the life of the Agudo family. It was not. Hello, my name is Jesus Agudo and this is the story of how my wife and I almost lost our youngest son and what we did to get him back.

***

My heart broke. It was the worst pain I had ever felt in my lifetime. The thought of losing my child was almost the death of me. I sat on the edge of my bed and cried the hardest I had ever cried in my life. Both of my fists were clenched over my eyes. An overwhelming flood of tears ran down my cheeks. My arms became saturated from crying.

As I sat there in pain and sorrow, the many memories of Christopher began to flash through my mind. Memories from Iliana being pregnant with him, the day he was born, him saying his first words, taking his first steps, all the hugs and kisses he would give us and growing up to be a wonderful, loving son.

Note:

Note from Jesus Agudo: These are some of the paragraphs from the Living Is So Big book "Darkness to Light" Chapter 2. This is why we continue to this day to day, to promote Life Appreciation, to the world and those in it. It began as a mission to save my son's life. Now it is our mission to pay it forward.

http://livingissobig.com/shop/index.php?main_page=product_info&cPath=6&products_id=5

Reviewed by Admin

manage

on Wednesday, September 19 @ 08:38:01 CDT (345 reads)


| | |
| --- | --- |
| | Story about a Man... By Jesus Agudo |
Short version of a true story.

As I waited in line for my coffee... this occured:
Man in front of me, in the line began to curse loudly at another person.
Man left the line cursing then shortly returned back in Line.
Man turned around towards me and asked, "what's that?"
I replied, "it's a wristband and it represents Life Appreciation."
Man said, "I like positive things!"
I then in return gave him two wristbands.

Man went outside to his table to drink his coffee.
I went outside to speak with him.
He looked at me and said, "I can feel the electricity."
Man claimed the wristbands made him feel that "Living Is So Big."
Man began to yell and repeated it loudly into the crowd... "Living Is So Big!"

Reviewed by Admin

manage

on Wednesday, August 15 @ 17:27:29 CDT (245 reads)


| | |
| --- | --- |
| | Our Love Long Lasting Ribbon - Part 1 - The Connection |
The story behind this incredibly strong and powerful ribbon began when a set of two eyes laid on each other for the very first time. Two kids at the age of fourteen felt at that moment what most would never feel in a lifetime. A surge of electricity ran through their bodies as they remained with their eyes locked on one another. She knew right there and then she had found her life partner. He knew right there and then that she was the love of his life. The certainty of each other's love was immediately imbedded into their hearts. The formation of Our Love Long Lasting Ribbon had been born on that day.

The meeting of the eyes lasted merely only for a few seconds but to them it seemed like a lifetime. For Iliana, it was the most wonderful feeling she had ever felt. For Jesus, it was the most beautiful site his eyes ever laid on. They did not speak a word while passing each other by that day. However, their eyes spoke out with a thousand words.

Note: How I met my Love... true story.

Reviewed by Admin

manage

on Saturday, June 23 @ 08:47:20 CDT (769 reads)


| | |
| --- | --- |
| | Do not over work your mind... By Jesus Agudo |
Do not over work your mind. Keep the revolutions of thought at a manageable constant pace. Let the mind enjoy, as it processes and learns what it needs at that given time. Try not to overwhelm it with much clutter and distraction. Take a moment to detoxify when needed. Be kind and reasonable with what enters the mind. Be wise and choose the thoughts that best fit your needs.

Rest the mind every so often just by breaking the unchanged routine. Step away and embrace new change. A simple glance out of a window to enjoy the day can suffice. You will make the realization when your mind begins to flow with such harmony. It is all within us to achieve such harmony.

The mind will alert you so please do not ignore it. It merely wants you to feel the best that you can feel. Do not be afraid to open the mind to such feelings of love, happiness, joy or bliss. Do not fear the manifestation of such feelings. Embrace it. Keep sending out the pure thoughts. It will reach its destiny. It will reach the right person that it was meant for.

Note: Your mind.

Reviewed by Admin

manage

on Wednesday, May 02 @ 17:17:56 CDT (827 reads)


| | |
| --- | --- |
| | I am a person with purpose... By Jesus Agudo |
I am a person with purpose, life, family, friends, feelings, enjoyment, kindness, spirituality and reasons yet to be discovered. I have no need to run or hide, no need to hate or cry. I am never alone. I look around and see that I am never alone. Look at me as I'm surrounded by sunshine, daylight, air and many amazing people. It fills me and it feels like magic. Look at me as I realize what I have, I have you and much more.

I am not alone. I have many dreams and I accept myself. I live and learn and that is my attraction, what I live for. What will I do? I will continue as I am a person just like you. I have accepted myself and my desires. It fulfills my needs from head to toe. It is safe to be alive. I am here now and now is when it counts. It's safe again to try harder... be alive! I exercise my self-control and manifest wonders when I apply myself.

Note: Self affirmation for anyone

Reviewed by Admin

manage

on Wednesday, April 25 @ 17:58:39 CDT (1013 reads)


| | |
| --- | --- |
| | Win an autographed book! |
Win an autographed book! To enter "LIKE" this status or post a comment before midnight of Friday 04/27.

Five people will be randomly selected to receive: The "Living Is So Big - Darkness to Light" book.

This book was written to show what transpired before and after the birth of Living Is So Big. It gives a detailed view of both darkness and Light. It tells a true story of a family hit hard by a near tragedy. "

Note: Contest until 4/27 on our Facebook page.

Reviewed by Admin

manage

on Saturday, April 21 @ 12:23:04 CDT (199 reads)


| | |
| --- | --- |
| | LIVING IS SO BIG... Possibilities |
Anonymous wrote
"
LIVING is so big because we live in a world of all possibilities and opportunities.
"

Reviewed by Admin

manage

on Tuesday, January 25 @ 07:54:36 CST (633 reads)


| | |
| --- | --- |
| | Stay focused and Stay living! By Jesus Agudo |
It has nothing to do with the body. The mind should be focused and free of obstruction. Clear the mind and create thoughts of only what you are focusing on. Eliminate all surroundings. Turn off the power of technology and generate pure thoughts with the power of the mind.
As easy as it may sound, it is not. We are so easily distracted and have confirmed to such. Revert to the beginning of mankind when such technological distractions did not exist. Go back to pure and focused thoughts. The mind is the source of all actions and actions are produced into real form. The form of energy and power… Focus!
Train the mind as we do the body. Quiet inner thoughts are so soothing and pure. Energy well spent, the blood flowing and the muscles working. No technological distractions… pure focused thoughts. One's thoughts, as we all know, determine one's life.
Note:
Focus
Reviewed by Admin
manage
on Sunday, July 18 @ 00:00:00 CDT (383 reads)

| | |
| --- | --- |
| | Post a Reason |

| | |
| --- | --- |
| | Can You GUESS the words? |

| | |
| --- | --- |
| | The Living Is So Big Shop |

| | |
| --- | --- |
| | Our Schedule |